about us...
Dean Italiano
Dean Italiano (pre-2016 known as Marcy) is a writer, artist and musician. He was born and raised in Hamilton, Ontario, and went to Bishop Ryan High School, attended the University of Waterloo and then stayed in the city to raise a family. Here is the story behind the name Dean.
By day, "Mr. I" is a mild-mannered Library Clerk at an Elementary School. You might find it interesting to read some personal stuff on this blog, as well as some Pics and Vids. And you can peek at this listing on IMDB.
Writing Background:
First published in 2001, Dean has since gone on to publish short stories, poetry and novels. Please see his books page for a full list of publications. Works in progress include a horror novel, a Sci-Fi novel, short stories, and on the back burner is a graphic novel. Conventions attended include: Horrorfind, World Horror, Bram Stoker Awards, Ad Astra, ConFusion, GenreCon. Founder of the writing group "Writing in the 'Loo" until 2015.
Music Background:
Classically trained on piano as a child, Dean reached Grade Eight Piano while in Grade Eight at school, which led to performing in competitions two years in a row.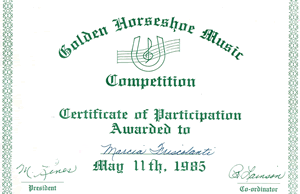 Dean also spent many years singing in choirs, as well as singing in plays at high school, and at graduation.
Years later, Giasone invited Dean to play bass for the band, Home Brew, which later became Bertha's Attic. They attended songwriting conferences and songwriting groups both in Waterloo and Toronto. This lead to the writing of "Every Day is Mother's Day" which received Honourable Mention in the Unisong contest in 2005. Next came the Johnny Gruesome Project. Dean's solo venture "Thursday Morning" received an Honorable Mention in the Blues Category, in the 2009 Unisong International Songwriting Contest.
Although Classically trained, Dean also enjoys Jazz, Blues, Adult Contemporary, Folk, Rock, Heavy Metal, Punk, and Raggae.
Music/perfomances have appeared:
Songs of Innocence and of Experience (2008)
Johnny Gruesome - Gruesome (2007)
Songs Under Starlight (2006)
Bertha's Attic "Stuff" (1996)
Taster '95 (1995 Wilfrid Laurier compilation) "Hermit"
Garage Sale Junkies (1995 Kitchener compilation) "Let it Fly"
Campus Grown '94 (1994 Wilfrid Laurier compilation) "In The Mix"
Member of: SOCAN / ASCAP since 2007
Fine Arts Background:
An early interest in fine arts, Dean attended weekend classes as a child, and continued throughout University. Soon after, writing domintated. It wasn't until 2015 when a friend suggested he join them in taking classes again. With experience in pencil, watercolour, and acrylics, you are welcome to buy prints here (link forthcoming), and to see home photos of the originals on the art page.