Music Reviews:
April 14, 2005 - The Record: "In the key of G"
Click on the image to read the full article...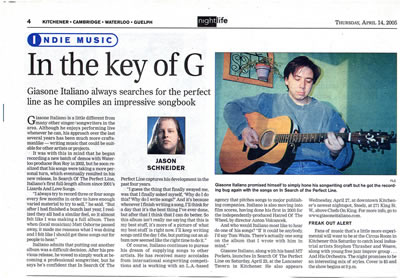 ---
Thursday August 16, 2001
Jason Schneider
FOR THE RECORD
When I wrote about Giasone Italiano's first album, No Need to Compromise, I was admittedly a bit taken aback by its startling amount of pure pop gems, which caused me to perhaps unfairly throw around names like Paul McCartney and Matthew Sweet as a comparison to this multi-talented musician.
After hearing the second album by Italiano (or G as he simply prefers), Lizards and Love Songs, I can now say he presents his own voice, one possessing sly, observational wit, unabashed emotion, and skilful pop sensibility.
The first two traits are shown in separate but equal measures, as explained by the dichotomy in the album title, a combination Italiano had not foreseen when he started recording.
"I'd done four of the slow songs first as sort of a demo that really didn't go anywhere, so after that I was wondering, 'OK, now what do I do?"' he explains.
"Some friends started suggesting that I try writing some heavier material like I used to with my old band, and once I started doing that, I hit upon this story line that's loosely based on the movie Casino.
"People bug me all the time about my name so I thought for once I'd go with it and have some fun writing about this guy who's being chased by the mob.''
Of course, Italiano is the furthest thing from a Sopranos character you can imagine, which makes the songs on the first half of the album, like We Need Another Body and Cement Shoes, all the more enjoyable in their irony.
And at the risk of making another lofty comparison, the opening five-song cycle reminded me of the great pop narratives Ray Davies once did with the Kinks.
"It starts with the guy tied up and going to be disposed of. Then in the next few songs he's thrown in a river and after he washes up on shore he goes home and has to explain to his wife why he's late. But it all ends up happily with him getting away and living on a desert island.
"That was the inspiration, but I think those songs stand up on their own, too,'' he said.
The remaining five tracks are the love songs, a decision Italiano made in hopes of giving people a choice as to which style of writing they prefer.
"I like the idea of people being able to listen to either half of the album depending on what mood they're in.
"Some of my friends still only like hearing the stuff I do when I'm playing in front of a campfire, and some only like the heavier songs,'' he admits.
While he makes no apologies for being sentimental on some of them, the quiet half also includes what I think is the best song on the album, Home (A Soldier's Song).
"The inspiration for that was this book I read in university called Stalingrad, which they recently made into a movie (Enemy at the Gates)," G said.
"I started out to write a song about war and it eventually came from the perspective of a soldier writing home from the front, so in the end it did fit in with the other love songs.''
G's Lizards and Love Songs is available at HMV Waterloo and Cambridge, or can be ordered directly from hmv.com
A full band CD release party is planned for the fall.
---
"Giasone Italiano crafts pure pop on his own."
By Jason Schneider.
KW-Record October 7, 1999
As a rock critic today, there's always a danger in holding current pop music up to the impossibly high standards of, say, Lennon and McCartney. Of course, it won't be as good in some ways, but on the other hand, anyone who merely attempts such a level of songwriting has to be given bonus marks in our increasingly formulaic, image-conscious pop world.
Giasone Italiano -- or G as he prefers to be known admits his debut solo album No Need To Compromise won't change the world. Nevertheless, it could easily be part of the perfect world soundtrack where Matthew Sweet and Fountains Of Wayne play on a continuous loop. Even more satisfying is the knowledge that Italiano, a la McCartney, created every sound on the album himself. Since the dissolution of his former band Bertha's Attic, Italiano has taken up an admirable career working with special needs kids and the hope and innocence that must come from doing that job is all over No Need To Compromise.
He says the album is also the result of a newfound confidence in his songwriting ability. "Bertha's Attic's last gig was actually North By Northeast in 1997 just as things were starting to go really well. I was fed up after this to the point where I didn't play at all for six months," he says. In the beginning of 1998, I started going to songwriter seminars and that's when I became more interested in writing songs without a band in mind. There was one seminar that was a three-day retreat that you had to audition for, and it was amazing being there with these people who were real craftsmen helping me rewrite my songs. "After that, a friend asked me to write a song for his wedding and it was a great opportunity for me to start taking that craft kind of approach."
The seminars also led Italiano to put together a rough demo and apply for a FACTOR songwriter grant. Much to his surprise, he received money to make a professional four-song demo. "I sent it out to everyone and didn't get a response, so that's when I decided to record these songs the way I wanted to. In Bertha's Attic we'd try to write songs like whatever was popular on the radio that week, which is really stupid because that means you're six months behind whatever the next big thing is going to be."
Italiano whittled down the album's 10 tracks from 42 he had to choose from and put the pieces together over the first half of this year at Ron Roy's Threshold Studio in Kitchener. Playing all the instruments himself turned out to be less of a problem than imagined. "I'm really trying to keep everything as simple as possible now, because I slowly want to start doing gigs on my own," he says. "The songs for Bertha's Attic usually had really long solo areas, but if you took all that away they were really only a minute-and-a-half long, so I'm trying not to have any wasted space any more in my music."
While Italiano admits to having few expectations in terms of wide exposure, he is hoping to start performing regularly in the area and potentially doing some shows with a band in order to capture the sounds on the record.
To hear this artist
Giasone Italiano officially releases No Need To Compromise at the Raintree Cafe in Waterloo on Friday night.